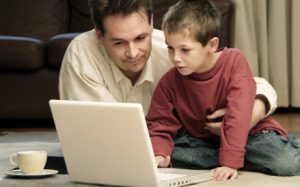 Kallemeyn & Kallemeyn, PLLC, provides comprehensive divorce legal services for our clients.  One important component of those services is making modifications to child-custody agreements after divorces have been finalized.  The stress of divorce can make it difficult to think far enough ahead to account potential issues that might come up requiring changes to your child support agreement. Once you realize that you need a modification and are inclined to feel stressed by uncertainty about how to proceed, we can help.  Child custody agreements are not fixed documents — they can be changed when needed. This is especially true when your desire to make a change to your child custody agreement is motivated by the welfare of your children.
Legal Support for Making Changes to your Child Custody Agreement
You may actually be surprised to find that you and your former spouse agree about the post-divorce child agreement modification you seek.  Many post-divorce modifications are simple and do not cause further conflict.  However, if your desire for a child custody agreement modification is at odds with your former spouse's desires, you are likely to feel more at ease with the modification process by working with our team. Lisa Kallemeyn has devoted her entire legal career to family law issues and uses her experience and strong communication skills to help families just like yours.
The legal team at Kallemeyn & Kallemeyn understands the intricacies of Minnesota divorce law and understands that the stakes are almost always highest for couples during the child-custody agreement process.  Of all the aspects of a relationship that are affected by divorce, the one thing you and your divorcing spouse may agree on is putting your kids first. By using that as a starting point, we can help you feel more at ease with the process of modifying the current agreement and navigating the associated issues with your former spouse.
Experienced Family Lawyer, MN
Modifying your current child custody agreement does not have to be complicated.  We can help you complete the required paperwork and ensure that it is filed with the court where the agreement was first filed.  Kallemeyn & Kallemeyn will focus on details and ensure that the process is completed to the satisfaction of the court.  We recognize that you will place great importance on ensuring that your children are taken care of, and that is as it should be.  Ensuring that your child custody agreement is optimally beneficial for your children and for you and your former spouse sometimes requires the support of a service like that which is provided by Kallemeyn & Kallemeyn.  Please give us a call at (763) 427-5131 for more information.