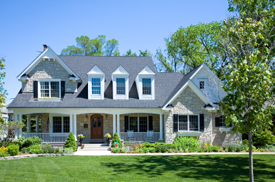 Finding a good real estate attorney can be the difference between a smooth transaction and a stressful, anxiety-ridden nightmare. Kallemeyn & Kallemeyn provide steady, informed, and professional real estate legal services. Even simple real estate purchases and sales can quickly become more complicated because of unforeseen circumstances, or difficult communication. Charles kallemeyn, of Kallemeyn & Kallemeyn, has earned a stellar reputation because of his commitment to professionalism, ethics, and keen understanding of Minnesota real estate law. When the nuances of legal issues in Hennepin county with real estate threaten to become problematic, our expertise will work to your advantage. Charles Kallemeyn
Experienced Hennepin County Real Estate Lawyer
Kallemeyn & Kallemeyn can assist you with a full range of services related to real estate law. Whether you are considering adding on to an existing structure, building a new home, or buying or selling properties, your legal representative should be someone you trust to advocate on your behalf with a solid understanding of the law. Kallemeyn & Kallemeyn are detail-oriented, strong advocates for their clients, and very easy to work with. Our team focuses on the following areas of real estate law:
● Purchasing and Selling: We will represent you in all aspects of property transactions, from acquisition to construction to financing and selling properties.
● Land Development: If you are making a simple sale or purchase, we can complete a legal review of all documents so that you are confident that your interests are protected. If you are involved in a more complex transaction, such as residential development, we have the experience to ensure an airtight conclusion to the process.
● Residential and Commercial Leasing: If you are a tenant who is having difficulty with a landlord, we can help you address the issues at play. And if you are a landlord, we can help you in the processes of writing, analyzing, and negotiating both commercial and residential contracts.
● Detainer and Eviction services: If you receive an unlawful detainer or eviction notice, Kallemeyn & Kallemeyn will represent your interests and help determine how best to proceed.
We can also help with more specialized real estate issues including boundary disputes, joint ownerships, mechanics liens, mortgage foreclosure and public purpose property.
Comprehensive Legal Support
We have staked our reputation on the twin towers of integrity and knowledge. Professionalism, ethics, attention to detail, and commitment to excellent advocacy are the components that give strength to the twin towers of our service to you. To discuss your real estate questions, call the law office of Charles Kalleyen of Kallemeyn & Kallemeyn at (763) 427-5131.