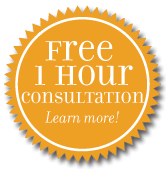 The law firm at Kallemeyn & Kallemeyn works each and every day to help those in the Coon Rapids area find solutions to complex and difficult legal problems. Charles and Lisa Kallemeyn are legal partners with extensive experience and knowledge of Minnesota law. When you find yourself in need of an attorney in Coon Rapids, MN, you can trust Kallemeyn & Kallemeyn, PLLC.
Our firm's expertise covers many practice areas including:
Estate Planning: Our team understands that it can be difficult to make plans for your wishes in the event of your untimely death. We work to make this process as easy and stress free as possible. We can help you draft a will, a living trust, name a power of attorney, and your health care directive. We will ensure that this paperwork is completed and filed in accordance with Minnesota law. Simple estate planning is less expensive than you might think, approximately $400 for an individual and $500 for a couple.
Family and Divorce Law: Divorce is one of the most stressful life events. The team at Kallemeyn & Kallemeyn can help you navigate the divorce process. Very often a divorce can be settled without a costly and lengthy court battle. Lisa Kallemeyn has devoted her entire career to family and divorce law and can serve as your divorce attorney or your divorce mediator, depending on your needs. She can help you resolve issues such as division of joint property, developing a child custody agreement and determining whether there is a need for child or spousal support.
Probate Services: Probate is the distribution of a person's assets and payment of their debts after death. This process can be complicated and difficult in a time of grief and great stress. Charles Kallemyn has more than two decades of experience in probate law and can guide you and your family through this process.
Real Estate Law: All real estate transactions require legal paperwork to close on the transaction. Charles Kallemeyn specializes in real estate law and can provide legal assistance for boundary disputes, joint ownership, property leasing, purchase agreements, tenant eviction and much more.
Coon Rapids Law Firm
If you live in the Coon Rapids area and need an attorney, call the team at Kallemeyn & Kallemeyn for assistance. We will listen to you and work to understand your needs so that we can provide you with the strongest possible legal assistance. Call us at 763-427-5131 for more information.