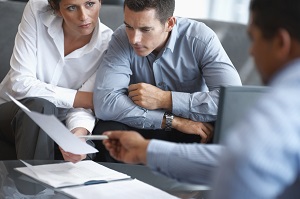 Kallemeyn & Kallemeyn, PLLC, can help you resolve all types of boundary disputes. We serve many communities in Minnesota, including those in and around Anoka County. If you are in the midst of a boundary dispute of any kind, or have questions about how to address a burgeoning situation that could become a boundary dispute, contact us.
Boundary disputes can be very stressful and if you are in the middle of one you understand this all too well. A boundary dispute is defined as a disagreement over the location of a property line. The causes of boundary disputes is nearly infinite, but the simpler ones tend to be caused by poor or no surveying in the case of older deeds. If a previous holder of the deed was uncertain of the actual property line, it might have been recorded incorrectly for example. Making things even more complicated, the measurements on older deeds may well have been estimates which can be inaccurate, ambiguous, or vague.
Boundary Line Dispute Anoka County
There are, of course, other common examples of boundary disputes and our team can help no matter how simple or complex:
Buildings or roads may be encroaching on your property.
The manner in which the land in question has been used over time may help to resolve the dispute; this often occurs as a result of missing property line markers, like signs, rocks, and stakes which might have gone missing long ago.
Surveys can be helpful, but if the property is old enough, surveys may not exist or may be inaccurate.
Similarly, there may be photographic proof, but photos cannot be counted on in all boundary disputes.
Agreements between prior owners might have established a working property line that is not accurate to the actual property line.
Property Dispute Attorney Anoka County, MN
Whatever the cause of your boundary dispute may be, you should involve a legal advocate who can look out for your best interest. Kallemeyn & Kallemeyn has the experience, training, and knowledge of real estate law to help you resolve the dispute you find yourself in. Owning a property, by definition, means that you have made an investment in that property. And with regard to understanding where one property ends and the next one begins can have an impact on the financial portion of the investment you have made. To ensure that your property's boundaries are accurate, especially if your assertion is being challenged by another party that may have greater resources than you, it is critical to have the support of a qualified law firm.
Experienced Real Estate Lawyer
Kallemeyn & Kallemeyn do all we can to make resolving your boundary issues as simple as possible. Call us today at 763-427-5131 or email charles@kallemeyn.com and we will find a convenient time to meet so that we can get started.