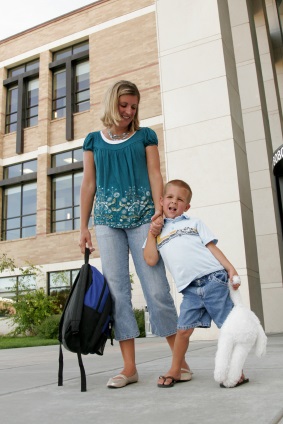 Child Custody can be a very emotionally charged situation. The process of deciding which parent receives physical custody of a child can be very stressful. Parents who are under this kind of stress may not make the best decisions regarding what is best for the children. If you are facing a custody battle it is important to have a knowledgeable advocate who understands the intricacies of Minnesota laws on Child Custody and Parenting Time. Kallemeyn & Kallemeyn provides excellent counsel for mothers or fathers who are seeking custody of their minor child.
Minnesota Child Custody and Parenting Time
Minnesota Child Custody statutes are designed to determine what is the Best Interest of the Child. A parent's gender does not determine which parent receives Legal Custody or Physical Custody. The mother should not assume that custody will be granted to her just because she is the mother. Likewise, a father should not assume that he will not receive child custody or parenting time rights.
Parenting Time or Child Custody Court Involvement
In the State of Minnesota, child custody may become an issue under the following circumstances:
Married parents file for legal separation or divorce
A MN court action for domestic abuse
MN court action regarding paternity
A child is being cared for by a grandparent, legal guardian or other third party
The child is involved in a juvenile delinquency issue
A child that is involved in a case for protective services
Types of Child Custody Under Minnesota Law
Child Custody is broken down into two categories, Legal Custody and Physical custody. A mother or father may be granted Sole Custody or both parents may share in an arrangement of Joint Custody. Both of which may fall under Legal Custody or Physical Custody responsibilities.
Legal Custody of a child refers to a parent's right to make decisions on the raising of the child, including issues of healthcare, religion, and education
Physical Custody of a child refers to the parent's right to make day-to-day decisions about the child's routine and where they are to live
Child Custody Court Without Attorney
While parents are allowed to represent themselves in court, the Minnesota judicial system strongly recommends that parents at least get legal advise from a Licensed MN Attorney. It is your responsibility to know and understand the rules and laws of court. With so much at stake in an emotionally charged situation, parents are wise to ask for help from an experienced Family Law Attorney like Lisa Kallemeyn.
Licensed Family Law Attorney
Kallemeyn & Kallemeyn has helped many families to reach solutions for The Best Interest of the Child in parenting time and child custody cases. Child Custody issues can be extremely stressful and make it difficult for parents to make good decisions. Minnesota courts look at numerous factors when deciding which parent will be given Legal Custody and Physical Custody of a child.
Contact Kallemeyn & Kallemeyn Law Firm for help with Child Custody and Parenting Time Rights via our Online Form or at (763) 427-5131.