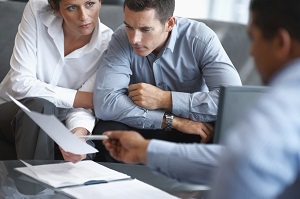 When you are ready to hire an attorney, you likely have a pressing issue that you need help with. Needing an attorney almost always means that an issue of some importance needs to be resolved, which probably also means that there is some stress involved. Regardless of the gravity of the situation, however, it is always important to choose your attorney wisely.
Experienced Lawyers Serving the Coon Rapids Area
The team at Kallemeyn & Kallemeyn, experienced Coon Rapids Attorneys, understands the importance of selecting an attorney who will fight for your interest, has extensive knowledge of the law, and the experience to apply legal principles in ways that are to your advantage. If you are in the process of identifying a law firm to represent you, Kallemeyn & Kallemeyn is an excellent choice. We have the knowledge of the law and the experience to apply the legal principles to your case. Furthermore, the clients who have used our services in the past will tell you that we work extremely hard in our representation of your interests.
We specialize in areas of law that affect many individuals and families. A description of each of those areas is below:
Family and Divorce Law. If you and your spouse are planning to divorce, we can help you with division of property, child custody and spousal/child support. We understand that divorce is almost never easy, but we take pride in applying our knowledge to the issues affecting your family and helping you through them with greater ease.
Estate Planning. From helping you write a new will to counseling you through conversations about such difficult topics as how to distribute your estate following your death, we have the knowledge of the law and the sensitivity to our clients' wishes to be able to help you in a meaningful way.
Probate. Probate is the process of ensuring that an individual's estate is dealt with as that person wished, and ensuring that all legal obligations have been met. It is a potentially complicated process that requires the experience of a law firm like Kallemeyn & Kallemeyn.
Real Estate. As with probate and many other aspects of the law, real estate law can become very complicated very fast. Regardless of the kind of transaction you may be involved in, Kallemeyn & Kallemeyn has the knowledge, experience, and expertise to answer your questions and help you get the results you desire.
Strong Legal Representation in Coon Rapids
If you live in the Coon Rapids area, call us at (763) 427-5131 to schedule an appointment with a member of our legal team.