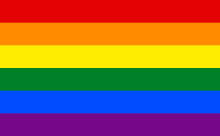 When we have more distance from the time we currently live in, we will likely wonder why our society was ever anything other than LGBT-friendly.  We have made strides in the right direction, but based on what we see on the news and internet, we still have a way to go.  The progress we are making, though, is not due solely to the high-profile activists.  Those efforts are supported by perhaps millions of people who do not receive public credit.  And one strong example of advocacy is the law firm of Kallemeyn & Kallemeyn of Coon Rapids, MN.
Kallemeyn & Kallemeyn, PLLC, is a law firm that understands the necessity of progressive thinking and human rights, and making the world a more welcoming place.  As a result of their forward thinking, the staff of Kallemeyn & Kallemeyn has adopted a congruent philosophy that is committed to serving all members of their community in Minnesota.  Kallemeyn & Kallemeyn serves the LGBT community with pride and openness.
Legal Representation For All Individuals
Just as we consider the horrors of the Civil Rights era to be historic shame, we will likely look back on this era in our history with similar sadness and even embarrassment.  The team at Kallemeyn & Kallemeyn strive to be forces for good, and the only way to ensure their place on the right side of history is to stand up for anyone who needs legal help.  It is from that philosophical stance that stating the value of all people is also extended to members of the LGBT community.  The LGBT community has suffered from our country's misguided bigotry.  But, thankfully, times seem to be changing, in large part because of community and though leaders like Kallemeyn & Kallemeyn, who work from the perspective that all people have a right to advocacy in all legal matters including marriage, divorce, and mediation.
LGBT Legal Advocate
So, if you identify as lesbian, gay, bisexual, or transgender and you are going through marital difficulty, a divorce, or require legal help in the categories of probate or real estate law, you should seek the help of Kallemeyn & Kallemeyn for strong legal advocacy.  The law firm's website exhibits the rainbow flag, which announces that the law firm of Kallemeyn & Kallemeyn is "LGBT Friendly."  The firm focuses on family law, real estate law, probate services and estate law and will welcome complex and difficult cases.  If you would like more information about the Kallemeyn & Kallemeyn team or to make contact about a specific case, call (763) 427-5131.
Save