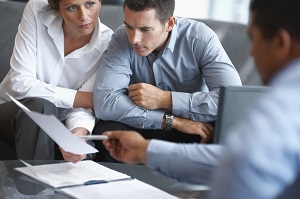 With the downfall of our economy over the last decade, times have been tough for Americans across the country. For the people who have lost their jobs during this time, it has become especially difficult. The main reason is because all of the bills keep coming each month, no matter what situation you are in. For many, the biggest investment you make in life is the purchase of a home. It tends to also be the highest monthly bill you'll ever have to pay. If you've gotten to a point where you have missed your mortgage payments or the bank is foreclosing your home, it is important to get reliable input from a law firm that practices real estate law as soon as possible. If your home is in Minnesota, and you are in this situation, partner with Kallemeyn & Kallemeyn, PLLC, a law firm committed to providing you with home foreclosure help!
Real Estate Law Background
Charles Kallemeyn, a Minnesota foreclosure lawyer, focuses more than 50% of his practice on real estate issues. Charles has passed the Minnesota Real Property certification exam and continuously attends seminars keeping him up to date on all of the moving laws regarding foreclosures and other real estate issues. Investing in an experienced and licensed attorney will help you rest assured the rights that you have will not be negated in court.
Foreclosure Law Focus
When facing a foreclosure, you already have enough on your plate to have to deal with all of the laws and regulations surrounding a foreclosure. Whether your mortgage is being foreclosed by action or by advertisement, Charles Kallemeyn has you covered. Take a breath and let our practice handle your foreclosure situation from start to finish.
Whether you have a question regarding mortgage foreclosures, or you are in the unfortunate situation of having your home foreclosed, you are not alone. Do not get discouraged, as there are brighter days ahead for you. Partner with Charles Kallemeyn and Kallemeyn & Kallemeyn, PLLC for all of your mortgage foreclosure needs. If you are in the Minnesota area, call us today at (763) 427-5131.