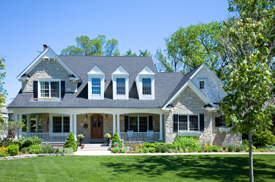 Real estate transactions are by nature complex and require extensive paperwork, with even simple property sales requiring more than thirty signatures.  It is important to get the legal advice and guidance you need to ensure that all documents are prepared and completed correctly so that the transaction can be completed without delay.  Charles Kallemeyn of Kallemeyn & Kallemeyn is a real estate lawyer serving the Andover, MN area devoting more than half of his entire practice to real estate law.  He can help you with a wide variety of issues related to real estate law and provides sound and honest legal advice so that you can move forward with your real estate transaction well informed and represented.
Some common issues that can be resolved with the help of a strong real estate lawyer like Charles Kallemeyn include:
Boundary Disputes: Disagreement or dispute about the location of a property line. Kallemeyn & Kallemeyn can help you with surveys, establishing fence lines, historic use of land, and other common boundary dispute related issues.
Mortgage Foreclosure: A mortgage foreclosure is complex for the owner and the lender.  Charles Kallemeyn can provide strong representation for either party to ensure that the appropriate steps are taken and that Minnesota law is followed.
Tenant Eviction:  The eviction process generally needs to be handled quickly and efficiently. Kallemeyn & Kallemeyn can handle the process for you, completing all necessary paperwork and even serve a tenant with an eviction notice.
Property Leasing: Charles Kallemeyn can help you negotiate a property lease agreement to meet your needs, whether you are a tenant or a property owner.
Joint Ownerships:  When two people purchase real estate together (for business or for personal reasons), separating if the relationship changes or ends can be extremely difficult.  Kallemeyn & Kallemeyn can help you navigate a settlement/division of property.
Public Purchase Property: If you are a landowner and have been contacted by a government agency about purchasing your property, you may want to seek the counsel of an experienced real estate lawyer.  Kallemeyn & Kallemeyn can help you challenge and/or negotiate fair compensation.
Mechanics Liens:  Minnesota law protects both contractors and landowners to ensure that contractors are paid for their work and that landowners get the work done that they have paid for.  A Mechanics lien should be reviewed by a real estate attorney before it is submitted.
Purchase Agreements:  Kallemeyn & Kallemeyn can also help represent you during the closing process to advise you about signing all relevant documents and help you ask any necessary questions about the transaction.
For more information about partnering with Charles Kallemeyn for your issues related to real estate law, call (763)-427-5131.