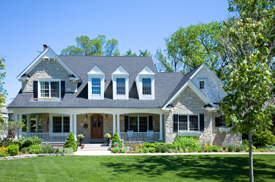 The attorneys of Kallemeyn & Kallemeyn Law Firm understand that even the simplest real estate transactions require acute attention to detail so as to help purchasers avoid unnecessary fees, court costs, and/or losing large sums of money by being ill-informed. And though the lawyers of Kallemeyn & Kallemeyn Law Firm are experts in the field of Minnesota real-estate law, they also understand that clients need to first be their own best advocates. Clients must recognize the importance of self-advocacy in order to fully avail themselves of their expertise.
So whether your real-estate purchase is small or large, simple or complex, it is in your best interest to make yourself knowledgeable of the processes associated with the legalities of real-estate purchases. But it is also likely that, for people who are not themselves real estate attorneys, they will need the advocacy and professional expertise offered by a firm such as Kallemeyn & Kallemeyn Law Firm. Charles Kallemeyn has devoted more than half of his practice to real estate cases in Minnesota for more than 20 years.
Real Estate Law Purchase and Sale | Land Development | Residential and Commercial Leasing
Purchase and Sale: When acquiring property, being involved in new construction, or financing or selling real estate, the Kallemeyn & Kallemeyn Law Firm is equipped to help you with your real-estate needs. Even after purchase agreements have been signed, for example, issues related to titles, financing, and the property's physical characteristics can make the purchase even more complex the Kallemeyn & Kallemeyn team provides reassurance that the purchase agreement will be air-tight. In short, we can reduce the difficulties associated with purchasing and selling real estate.
Land Development: With regard to land development, Kallemeyn & Kallemeyn can represent both an individual or a corporation. No matter what kind of land development is in question, it is almost guaranteed that there will be many layers of regulation to complicate matters. It is a near certainty that larger projects will invite public and political interest, which could in turn threaten the development of the projects; these kinds of developments can occur even in smaller projects as well, so it is best to have the expertise and legal advocacy of a law firm such as Kallemeyn & Kallemeyn.
Residential and Commercial Leasing: Residential and commercial leasing issues are also within the area of expertise of Kallemeyn & Kallemeyn. The law firm is able to represent both tenants and landlords to ensure that the legal interests of their clients are represented fairly.
Charles Kallemeyn provides the kind of assistance that no real-estate seller or purchaser should go without. Call him directly at 1-(763) 427-5131 for more information.