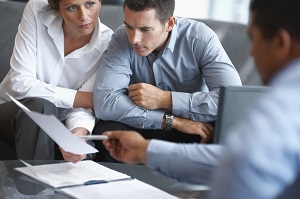 Do you understand all of the complicated Minnesota Real Estate and Property Laws? Entering into a long-term legal contract such a home mortgage or commercial lease agreement without competent legal advice can be risky business. A local, experienced Real Estate Attorney can help you to navigate the legal terms like a pro. Kallemeyn & Kallemeyn attorneys are here to advocate for Anoka County MN residents with all types of real estate transactions. If you so choose, your Real Estate Lawyer can be by your side throughout the entire process from initial concept to a final closing transaction.
Minnesota Real Estate Lawyer
The excitement of owning your first home can quickly be dampened by the realization that you have unknowingly signed away your rights and are left with an expensive problem. A problem well, septic system or property lien may lead to costly litigation before reaching a fair resolution.
The chances of the above scenario playing out are all but extinct if you follow the advice of a trusted, Minnesota Real Estate Lawyer from Kallemeyn & Kallemeyn. We work hard to ensure that our clients understand all of the legal and financial contracts that they are signing.
Property Acquisitions
Commercial Lease Agreements
Mortgage Financing
Property Development
Real Estate Disclosure Statements
Real Estate Sales (buyers and sellers)
Landlord and Tenant Contracts
Property Liens
Purchase Agreements
Residential Leases
Property Title Marketability
Individual and Corporate Real Estate Developments
Private Well or Septic System Compliance Certifications
Navigating Federal and MN Real Estate Laws
Understanding the legal ramifications of specific wording in real estate contracts is part of the job of a Minnesota Real Estate Attorney. Real estate transactions can follow several twists and turns before reaching a conclusion at closing. Both federal and state statutes govern various aspects of real estate transactions. For instance, the Federal Fair Housing Act can have an impact on what may or may not be included in real estate contracts. Also, a real estate lawyer is often tasked with determining if a property title is valid and marketable.
Anoka County MN Real Estate Attorney
Charles Kallemeyn is a powerful advocate to have on your side during a real estate transaction. He and other attorneys at Kallemeyn & Kallemeyn Law Firm are dedicated to helping individuals to know their rights and understand Minnesota Real Estate Law. Call to set up an appointment with a trusted Anoka County Real Estate Attorney before signing documents that you may not fully understand.
Call the Kallemeyn & Kallemeyn Law Firm at (763) 427-5131.