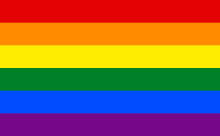 We believe that all members of our community deserve to feel welcome and safe. Members of the LGBTQ community have for too long been made to feel like they do not belong, but the team at Kallemeyn & Kallemeyn Law Firm want to communicate our support for all members of our society by offering the best possible legal representation that we can.
LGBTQ Legal Representation
The history of our country, for all of its greatness, is still marked by periods when certain segments of the population have been treated unfairly and illegally. We strive to be on the right side of history, and as that pertains to the LGBTQ community, our commitment is based on the belief that our expertise in legal matters can actually help people who have been ostracized and marginalized for too long.
We have built our law firm—Kallemeyn & Kallemeyn, PLLC—on the belief that the law should be a force for good, and that we are obligated to serve all those who are subject to it. In one way, this means that we view the law with a blindfold on, symbolizing our commitment to fairness; but inasmuch as fairness has not been inherent in the law as it has applied to LGBTQ people, it is necessary for us to affirm our commitment to balancing the scales of justice for people who have been promised, but not always benefited from, the fairness of law.
Experienced Law Firm
If you identify yourself as being a member of the LGBTQ community and have a legal issue that needs to be addressed, we want you to know that you can count on us to provide you with the full range of our experience and expertise in legal matters. You may have legal concerns based on marriage, divorce, child-support, or need to create a will or living trust. Have you experienced discrimination based on sex or gender or some other matter of law that has become intertwined with your identity? We will provide you with an honest appraisal of your legal standing and represent you zealously. The bottom line for us at Kallemeyn & Kallemeyn is that we take the law seriously, and because the law obligates us all to obey it, it is our moral and ethical responsibility to ensure that all who are subject to the law receive the best possible representation.
The law should serve all citizens fairly and equitably, and we take pride in having worked hard to establish a reputation as advocates for all Minnesotans. We are LGBTQ-friendly not because we want to expand our client base, but because it is the right thing to do. If you're in need of legal representation, contact us by email lisa@kallemeyn.com & charles@kallemeyn.com) or by phone (763-427-5131) and know that you will be made to feel welcome.