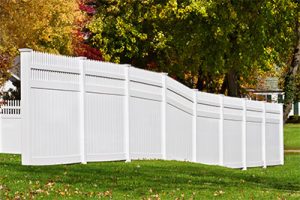 Boundary disputes are not uncommon in the world of real estate law.  For someone who does not have a background in real estate law, finding oneself in a boundary dispute can be unnerving and stressful.  But there is good news: Kallemeyn & Kallemeyn PLLC provides knowledgeable and professional help to people experiencing the stress and difficulty of boundary disputes. The help we provide to people in the midst of boundary disputes is based on years of experience and accumulated expertise in Minnesota real estate law.
Common Causes of Boundary Disputes
The term 'boundary dispute' is defined as a disagreement by two or more parties over the location of a property line.  There are, of course, many causes for the onset of such a dispute.  Boundary disputes are often caused by poor surveying at the time the land was parceled or zoned, or in some cases there was no surveying done at all which is not uncommon when older properties are concerned.  If a previous holder of the deed was uncertain of the actual property line, it might have been recorded incorrectly.  There are also numerous cases showing that property lines were estimated, adding even more uncertainty to any given case.
Resolving Your Boundary Dispute
You may see your situation described in the following scenarios, which are very common in boundary disputes.  But even if you do not, it is highly likely that we have the experience to help you address your unique issue.  In most cases, we can provide information to help move the discussion forward and closer to resolution.  Some common circumstances, and methods for resolving them, are below:
There are potential clues as to determining actual boundary lines. Those clues can be provided by old signs, stakes, and even rocks.  These can indicate how the land has been used over time, and the history of the land's use can help resolve more historical boundary disputes that lack modern documentation.
Buildings or roads sometimes encroach on properties.
Land surveys may not be accurate as they relate to your property. In some cases, the surveys may no longer exist.
Similarly, there may be archival photographic proof. Photographic evidence, however, is not available in all circumstances, so it tends to be a rarer means of confirming property lines.
Agreements between prior owners might have established a working property line that is not accurate to the actual property line.
Experienced Minnesota Real Estate Attorney
The team at Kallemeyn & Kallemeyn has the experience, training, and knowledge of real estate law to help you resolve whatever boundary dispute you face.  To ensure that your property's boundaries are accurate, especially if your understanding of its location is disputed by another party with access to resources that you do not have, you need a real estate attorney with deep knowledge of boundary matters. Contact us at 763-427-5131 and we will be happy to discuss your situation with you.