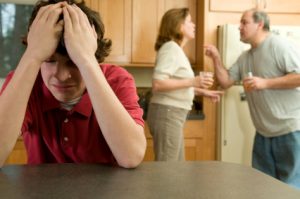 One of the most difficult and emotional times a child goes through in their young lives is to put in the middle of a contentious child custody battle. Both parents usually begin the legal process with good intentions for working out a parenting plan that is in the best interest of the children. Without the guidance, support and legal representation of an experienced family law attorney like Lisa Kallemeyn of the Kallemeyn & Kallemeyn Law Office, good intentions may be replaced with bitter disputes. With more than 20 years working exclusively with family law matters including child custody arrangements, Lisa provides a wonderful resource for protecting the rights of minor children, divorcing parents, single women and fathers.
Different Types of Child Custody Arrangements
There are a few different child custody arrangements that may be agreed upon when working out a comprehensive parenting plan arrangement. Your family law attorney can help you to better understand the ins and outs of differing aspects of the child's physical care and upbringing.
When entering into any of the four types of child custody agreements, your lawyer must make sure that all options are thoroughly explored in order to secure the best outcome for the children. Structured agreements for either sole or joint custody may be different for each child in the family depending on a number of factors.
• Legal Custody of a Child is when the parent or guardian has the legal right to make decisions regarding the child's health care, education, religious training and how the child is to be raised.
• Joint Legal Custody of Child is when both parents have the right to participate in major decisions regarding religious training, healthcare and education, as well as child raising decisions.
• Physical Custody and Residence is when a parent has the right to decide where a child lives and the child's regular daily activities.
• Joint Physical Custody of a Child is when the child's daily routine, care, control and residence is shared between both parents.
Child Custody Lawyers for Single Women
Legally exercising your parental rights can be very rewarding as well as challenging if you do not have a licensed family law attorney to advocate on your behalf. In Minnesota, the law does not favor the sex of one parent over the other parent when it comes to child custody and visitation rights. This means that the father has the same child custody rights as the mother in the eyes of the court.
Child Custody Lawyers for Fathers Rights
A father may need the assistance of an experienced family law attorney if the paternity of the child has not been established. If the father would like to exercise parental rights to child visitation or custody, establishing paternity can be a major step in the right direction. Child custody lawyers can assist with protecting father's rights when structuring parenting plan agreements for one or more children.
Experienced Family Law Attorney
As a caring and experienced family law attorney, Lisa Kallemeyn works hard to advocate on behalf of the parent and child. Your lawyer can assist with evidence gathering, court papers and other legal matters that can protect your parental rights when establishing sole or shared child custody arrangements. We can work together to develop a settlement that provides the best arrangement for your child.
If you live or work in the Coon Rapids, Minnesota area, contact Lisa Kallemeyn of Kallemeyn & Kallemeyn if you would like assistance with Child Custody, Visitation and Parenting Plan Rights at (763) 427-5131.