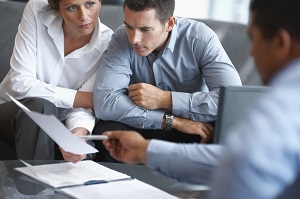 Real estate contracts are complicated, and are often written in a way that most of us regular people do not understand.  It is important for anyone without a background in real estate law to seek the assistance of a qualified real estate contract attorney to ensure that the contract(s) they are signing match the expectations and verbal terms of agreement.  Charles Kallemeyn, of Kallemeyn & Kallemeyn PLLC, specializes in real estate law and can help protect your interests when it comes to real estate contracts.
Buying a home is likely most significant purchase you will make in your life, but home sales and purchases are a small portion of the world of real estate transactions.  All real estate transactions involve contracts that are almost always complex documents.  Buying or selling a property is not only exciting and joyous, it can also be incredibly stressful. Our legal team can reduce and even eliminate the stress of real estate transactions by thoroughly examining and explaining the specifics of your contracts so that you can focus on the excitement and joy of the transaction.
Importance of Understanding Legal Contracts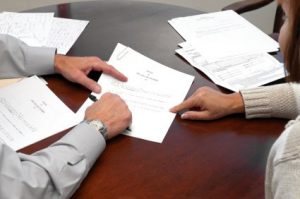 Another way in which we can help you is by eliminating the use of vague terminology in contracts.  Vagueness in contracts occurs frequently and can be problematic.  We have a trained eye for such things, and as a result we have helped many buyers and sellers avoid signing bad contracts as a result.
It is extremely uncommon for buyers and sellers of real estate to understand real estate law with any depth.  And why would you?  It is a highly regulated component of our economy and is therefore governed by complex laws and policies.  But we have dedicated our professional energy, time, and resources to understanding the subtleties and nuances of real estate law so that when it comes time for you to sign a contract, you can do so with confidence.
If you have ever bought or sold a property, you know how much paperwork there is to sign. Each document on which you sign your name indicates that you agree to the terms outlined in that document.  We see it as our job to give you access to the meaning of the document without having to earn a law degree or master the real estate licensing exam.  We have pursued those avenues so that you do not have to.
Experienced Real Estate Attorney
Contracts are obligations.  If you sign a bad one, you are beholden to the obligations contained therein.  But we can help ensure that you are fully aware of the terms of a contract so that you feel good about the obligations you are accepting.  You may have questions about purchase agreements, title searches, or boundary lines for the property involved in the transaction.  We have the experience and knowledge to help you understand all aspects of your transaction. Call Kallemeyn & Kallemeyn today at 763-427-5131 and we will be happy to set up a consultation with you.